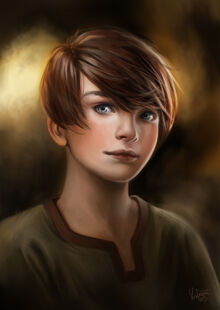 Ben Mullendore
Edit
Ben is the youngest child of Ser Owen Mullendore and Lady Bethany Florent. He is a boy of ten. He is frail and prone to sickness. He has brown hair and gray eyes like his mother.
Ben was born two weeks early, and was a sick babe. Due to his health issues, he is closely watched by Uplands' maester, his mother, and his sister Lyra. He has never been outside of Uplands.
Family Members
Edit
Ser Owen Mullendore, father (deceased)
Lady Bethany Mullendore, mother
Mark Mullendore, brother (deceased)
Lyra Mullendore, sister
Lord Osmund Mullendore, brother
Rohanne Mullendore, sister
Lady Lysa Inchfield, aunt
Ser Hosman Mullendore, uncle
Ser Alester Mullendore, cousin
Eleyna Mullendore, cousin
Bryen Mullendore, uncle
Ad blocker interference detected!
Wikia is a free-to-use site that makes money from advertising. We have a modified experience for viewers using ad blockers

Wikia is not accessible if you've made further modifications. Remove the custom ad blocker rule(s) and the page will load as expected.