Bethany Mullendore
Edit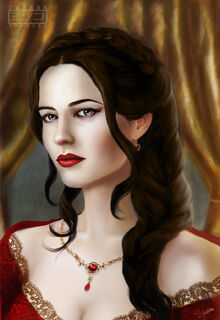 Bethany Mullendore is the Lady Dowager of Uplands, and Ser Owen Mullendore's widow. She was born a Florent and has no surviving siblings. She has chestnut brown hair and gray eyes. She is often described as graceful and proper, but isn't known for being kind.
Bethany Mullendore was born to Lucas and Amerei Florent, a distant cousin line. She was betrothed to and later married Owen Mullendore after Amerei caught her kissing Luthor X. She was married young, even though her mother never revealed her secret.
She is in love with Luthor X, who she convinced her husband to take on as Uplands' steward only a few years after the two were married. She has been carrying on a secret affair with him since. She believes that her sons Osmund and Ben were fathered by Luthor.
Family Members
Edit
Ser Owen Mullendore, husband (deceased)
Mark Mullendore, son (deceased
Lyra Mullendore, daughter
Lord Osmund Mullendore, son
Rohanne Mullendore, daughter
Ben Mullendore, son
Ser Hosman Mullendore, goodbrother
Ser Alester Mullendore, nephew
Eleyna Mullendore, niece
Bryen Mullendore, goodbrother
Lady Lysa Inchfield, goodsister
Ad blocker interference detected!
Wikia is a free-to-use site that makes money from advertising. We have a modified experience for viewers using ad blockers

Wikia is not accessible if you've made further modifications. Remove the custom ad blocker rule(s) and the page will load as expected.