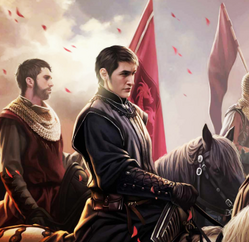 Lucos is the son of Lord Boros Slynt. He is a squire.
Lucos was born in King's Landing to unlanded Lord Boros Slynt and Senelle, daughter of a wealthy local merchant family. He was page to the City Watch at a young age and later a squire, participating in the raid on Sanctuary. He was dismissed from service after the murder of his uncle, a fellow Gold Cloak.
Recent Events
Edit
Sixth Era
Edit
Following his dismissal from the City Watch, Lucos treated with Lady Eleanor Massey. He became a squire to her nephew, Ser Godry Bywater at Stonedance.
Lord Boros Slynt, Father
Senelle, Mother
Ad blocker interference detected!
Wikia is a free-to-use site that makes money from advertising. We have a modified experience for viewers using ad blockers

Wikia is not accessible if you've made further modifications. Remove the custom ad blocker rule(s) and the page will load as expected.