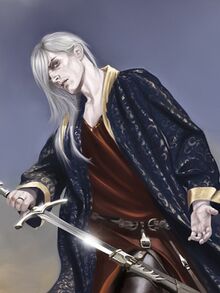 Myles Celtigar was the Lord of Claw Isle and elder brother of Rhaenyra Celtigar, Naera Celtigar, and Daena Celtigar.
Myles was born the second child of Lord and Lady Celtigar, and was a cruel child even from a young age. He grew increasingly attached to the history of his house as from an early age and later planned on wedding his sister, Daena Celtigar.
Important Events
Edit
Third Era
Edit
After Daena's death, Myles welcomed Andrik Harlaw into his home briefly, before sending him away. He later then intended to wed his sister, Naera Celtigar.
Fifth Era
Edit
Myles traveled with his sisters to the Queen's Feast, where he briefly fell in with Victaria Harlaw. Unbeknownst to Myles, he fathered a child on her, later called Balon Greyjoy, despite sharing his father's eye color.
Myles's lecherous and overbearing behavior towards his sisters caused Rhaenyra Celtigar to flee Claw Isle when she became pregnant with Dagon Greyjoy's child. Fearful of Myles becoming aware of her condition, she sought refuge with House Sunglass on Sweetport Sound.
Sixth Era
Edit
Myles began attempting to levy taxes from the lords of Crackclaw Point, in the tradition of the old Lords of Claw Isle. When they refused, Myles had Lord Hardy dismembered and sent to the other Crackclaw nobles as a warning. He also sent a menacing letter to Queen Danae Targaryen, threatening her family.
In response to his rebellion, Queen Danae rode her dragon Persion to Claw Isle. Accompanied by the Royal Fleet under the command of Aemon Estermont, Myles' keep was attacked and taken. Myles attempted to barricade himself into his strongest tower to perform a last stand, but was slain by a member of his own garrison in the ensuing chaos.
Family Members
Edit
Daena Celtigar, sister (deceased)
Rhaenyra Celtigar, sister
Naera Celtigar, sister
Ad blocker interference detected!
Wikia is a free-to-use site that makes money from advertising. We have a modified experience for viewers using ad blockers

Wikia is not accessible if you've made further modifications. Remove the custom ad blocker rule(s) and the page will load as expected.