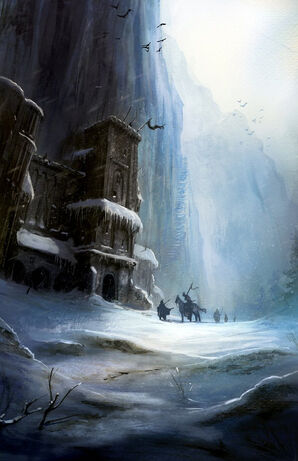 The Night's Watch is a military order dedicated to holding the Wall, the immense fortification on the northern border of the Seven Kingdoms, defending the realms of men from what lies beyond it. The order's foundation dates back to the Age of Heroes, at the time when the Others were pushed back. The men of Night's Watch wear only black, and they are known as black brothers.
Notable Members
Recent Lord Commanders
Brothers
Castle Black
Shadow Tower
Eastwatch
Nightfort
Former Brothers
Dywen, a ranger from the Shadow Tower. Died while attempting to kill Lord Commander Rheager II Targaryen.
Ser Joss Buckwell, commander at the Shadow Tower.
Rolf, a recruit at Castle Black. Died during a wildling attack while on a ranging.
Ad blocker interference detected!
Wikia is a free-to-use site that makes money from advertising. We have a modified experience for viewers using ad blockers

Wikia is not accessible if you've made further modifications. Remove the custom ad blocker rule(s) and the page will load as expected.