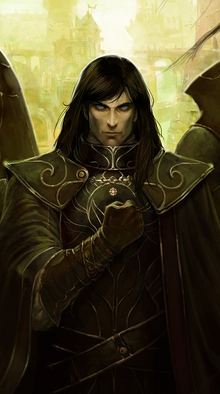 Raynard Royce is the current Lord of House Royce of the Gates of the Moon.
Born in 479 AC, Raynard is the current Senior member of House Royce and Keeper of the Gate of the Moon, a title he inherited through descendance, being the eldest of three siblings.
Prior to receiving his title, he served as the Knight of the Gate. He has seen his large share of combat in the Bloody Gates. He is well regarded within the Vale as a prominent duelist, however his name does not travel far from it. He is one to lead from within the battlefield.
He believes in immortality through legacy, and it is for such that he admires the Winged Knight. He's gone as far as having his armor crafted with avian imagery all throughout, a large eagle with its wings spread in etched in its breastplate.
Albar III Royce, father (deceased)
Denyse Royce, mother
Cynthia Royce, sister
Cedrik Royce, brother
Ad blocker interference detected!
Wikia is a free-to-use site that makes money from advertising. We have a modified experience for viewers using ad blockers

Wikia is not accessible if you've made further modifications. Remove the custom ad blocker rule(s) and the page will load as expected.