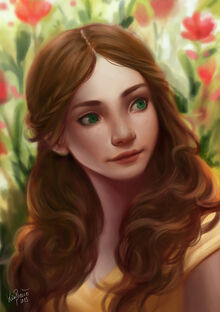 Rohanne Mullendore
Edit
Rohanne is the second daughter of Owen Mullendore and Bethany Mullendore, and the second youngest child. She has long, curly chesnut brown hair and bright green eyes. She was named after her paternal grandmother.
She is a girl of two and ten and is recently flowered, but appears at most ten. She has always been small for her age and was sickly as a babe. She is often called "Sweet Anne" due to her sweet appearance and loving temperament.
Rohanne and her oldest sibling Mark were her parents' and house staff's favorite. She is often spoiled by relatives and family friends.
Family Members
Edit
Ser Owen Mullendore, father (deceased)
Lady Bethany Mullendore, mother
Mark Mullendore, brother (deceased)
Lyra Mullendore, sister
Lord Osmund Mullendore, brother
Ben Mullendore, brother
Lady Lysa Inchfield, aunt
Ser Hosman Mullendore, uncle
Ser Alester Mullendore, cousin
Eleyna Mullendore, cousin
Bryen Mullendore, uncle
Ad blocker interference detected!
Wikia is a free-to-use site that makes money from advertising. We have a modified experience for viewers using ad blockers

Wikia is not accessible if you've made further modifications. Remove the custom ad blocker rule(s) and the page will load as expected.