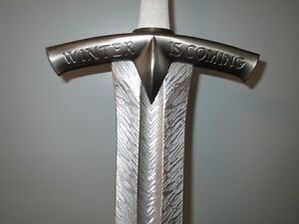 Spellforged steel from Valyria can be used to make uncommon weapons. With Valyria gone, the method of making them is lost, and they are as such very rare.
Surviving Valyrian Steel Weapons
- Widow's Wail, Owned by Damon Lannister
- Oathkeeper, Owned by House Tarth
- Heartsbane, Owned by Bonifer Tarly
- Longclaw, Owned by Dacey Mormont (previously Jojen Stark)
- Red Rain, Owned by House Drumm
- A Valyrian steel axe, Owned by House Celtigar
- A Valyrian steel arahk, Owned by a Lhazareen named Eroeh (previously Khal Joro)
- Blackfyre, Owned by House Lannister
- Vigilance, Owned by Gylen Hightower
- Orphan-Maker, Owned by House Roxton
- Seafoam, formerly "Truth," the Valyrian Steel Sword of House Rogare, Owned by Varyo Velaryon
- Dark Sister, Owned by Danae Targaryen (previously Summer Steelsong)
- Maiden's Bite, Owned by Aedan Ormollen (previously Caerys Seasteel)
- Nightfall, Owned by Alannys Greyjoy
- Lady Forlorn, Owned by House Corbray
- Duty, Owned by Ryman Sunglass (gifted by Damon Lannister, formerly 'Fury' when owned by Harys Baratheon)
Ad blocker interference detected!
Wikia is a free-to-use site that makes money from advertising. We have a modified experience for viewers using ad blockers

Wikia is not accessible if you've made further modifications. Remove the custom ad blocker rule(s) and the page will load as expected.